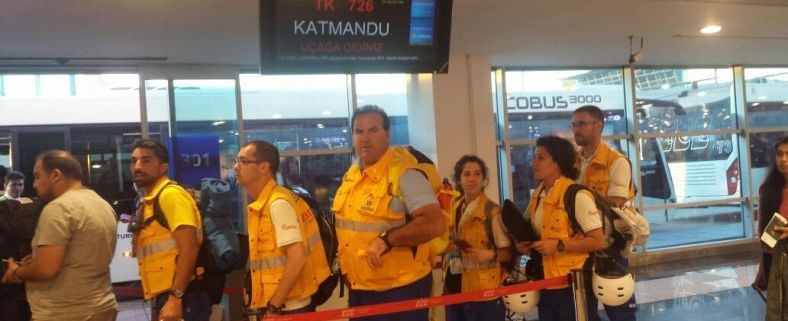 SAMU sent the first medical personnnel and equipment to Kathmandu
Our first team left on Monday for Kathmandu with 6 toilets and 300 kg in humanitarian action.
About 5,500 units donated by Menarini Group analgesics Spain, together with 300 kg of medical supplies, equipment SAMU takes to help the wounded and refugees of the earthquakes that have recently taken place in Nepal. This work will target victims at increased risk such as children, orphans, disabled and chronically, especially vulnerable.
The director of the School of Emergency SAMU, Juan Gonzalez, said "these drugs are vital in the area, since its analgesic capacity is very suitable for aiding the injuries caused by catastrophes: fractures, amputations, crushing, etc … Our medical equipment is first intervention drugs, generators, multifunctional elements, transmissions and logistical resources Primea."
Dr. Carlos Alvarez Leiva, president of SAMU, said that "our work in other missions such as the Philippines, Haiti, Indonesia, etc … has been to restore destroyed hospitals, attend to the wounded, provide babysitting, classify patients, offer primary care, and improve pediatric healthcare … with strict control of our actions under the guidance of the UN. "
"Our professionals, doctors, nurses, technicians, and pharmacists are specially trained to work in conditions of austerity, in impossible scenarios, have a balanced psychological profile and are prepared to face uncertainties. Our team's skills go beyond just providing assistance: we are also experts in health organization and logistics", says Carlos Alvarez.
https://samufirstresponse.org/wp-content/uploads/2015/05/katmandu.jpg
443
788
Amy Hammond
https://samufirstresponse.org/wp-content/uploads/2020/03/logo-samu-fr.png
Amy Hammond
2015-05-13 06:58:14
2023-04-11 10:42:31
SAMU sent the first medical personnnel and equipment to Kathmandu