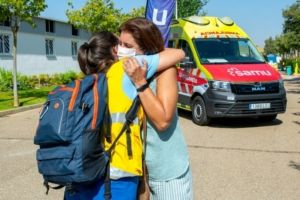 An intervention team from SAMU has been deployed to El Salvador in response to a call from their government to SAMU First Response at the beginning of July. The team of 28 is there to help them as they face the sanitary crisis caused by COVID-19. 
Given the situation in El Salvador, the Ministerio de Salud made an official call to Carlos Álvarez Leiva, President of SAMU, to provide assistance to a national hospital in San Salvador, the nations capital. The hospital has been recently inaugurated by president Nayub Bukele. The hospital counts with 1,000 beds of emergency and ICU support, making it the biggest hospital in Latin America. The urgent petition comes as there is a great need of volunteer medical support at all levels for at least a month. This call also comes with a need for instruction and knowledge transfer, something deep into SAMU's mission and structure. 
To respond to the call, SAMU has gone through an intense selection process in which more than a 100 professionals from different parts of Spain have applied. On July 29th, the team of 28 professionals departed to San Salvador on a month long mission. 
The volunteers reported for duty on July 28th at the Escuela SAMU facilities in Gelves, Seville to depart to Madrid on a bus organized by our team. On July 29 they left on a charter plane to San Salvador. 
"We are a young team with a call to service and a willingness to share the institutional knowledge we have acquired during the last 30 years of missions and 20 years of training from our organization. We are eager to share the best practices that have been developed from the protocols on the fight against covid in Spain." Says Juan Gonzales de Escalada, director of SAMU emergency services and leader of the mission. 
The departure was attended by many of our local authorities who came to wish the best to our team as they departed on this trip. Among them were Rafael García Villa, delegate from the Human Resources and Mobilization office from the local mayor's office; Carma Tápies, Leader of the Humanitarian Action office in the Andaluza Agency of International Cooperation; Christophe Sougey De Funes, French Consul in Seville; Ignacio de Cossío Pérez de Mendoza, Consul from El Salvador in Seville; Alfonso Carmona Martínez, president of the School of Doctors in Seville; and Pilar Cordero Ramos, Vice President of the School of Nursing in Seville. 
Before the departure there were many emotional moments from our volunteers and their families as they wished them good luck and said their goodbyes. 
"As a mother I am afraid, what she is going to do is dangerous, there is a risk of contagion but I understand that is her calling and I'm here to support" said one of the relatives from our volunteers. 
As of July 29th there are approximately 270 new cases a day in El Salvador. 87% of the confirmed cases are in the nation's capital. The Salvadorian Ministry of Health identified the first original cases of Covid-19 in the country back on April 10. At the beginning of July there were of 8,000 cases and 209 diseased. Health authorities predict the peak to hit in August and the country does not count with enough professionals to respond. 
"The call for medical volunteers will create a long lasting impact in our country. We are excited to continue building our relationship with SAMU Foundation as we all continue the fight against the virus, always improving the condition of our community" as stated by the Government of El Salvador. 
SAMU has extensive expertise in emergency interventions during catastrophes and has acquired a lot of know how in the fight against Covid-19. During the time of peak cases in Spain, SAMU was at the frontlines of the response, providing sanitary response by setting up temporary hospitals in Hotel Alcora, located San Juan de Aznalfarache in Seville, and the Residence del Tiempo Libre El Burgo, located in Línea de la Concepción, Cádiz, in order to provide medical services to elderly people with  Covid-19. SAMU also participated in the transfer of Covid patients from Madrid and Toledo. 
https://samufirstresponse.org/wp-content/uploads/2020/08/B689B270-54C5-4122-8167-F650B8F7CE48.jpg
960
960
Amy Hammond
https://samufirstresponse.org/wp-content/uploads/2020/03/logo-samu-fr.png
Amy Hammond
2020-07-29 17:10:11
2023-04-11 10:42:31
Mission El Salvador 2020: Elite force against Covid-19