An intervention team from SAMU was deployed to El Salvador in response to a call from their government to SAMU First Response at the beginning of July. The team of 28 was there to help them as they faced the sanitary crisis caused by COVID-19.
Given the situation in El Salvador, the Ministerio de Salud made an official call to Dr. Carlos Álvarez Leiva, Founder of SAMU, to provide assistance to a national hospital in San Salvador, the nations capital. The hospital was inaugurated by president Nayub Bukele. The hospital counts with 1,000 beds of emergency and ICU support, making it the biggest hospital in Latin America. The urgent petition came as there was a great need of volunteer medical support at all levels. This call also came with a need for instruction and knowledge transfer, something deep into SAMU's mission and structure.
To respond to the call, SAMU went through an intense selection process in which more than a 100 professionals from different parts of Spain applied. On July 29, 2020 the team of 28 professionals departed to San Salvador on a month long mission.
Official call from the government of El Salvador

June 29, 2020

July 2, 2020

Initial draft of mission documents.

Milestone Content goes here

July 4, 2020

Presentation of mission plan

Milestone Content goes here

July 15, 2020

Milestone Content goes here

July 27, 2020

Departure from Seville, Spain

The mission team departs to Madrid.

July 28, 2020

Milestone Content goes here

July 30, 2020

First meeting at Hospital El Salvador

Hospital tour, introduction and assembly of working groups

July 31, 2020

After caring for over 1000 patients and providing 28 training opportunities.

August 29, 2020: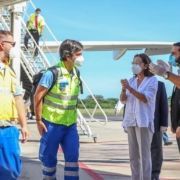 Juan Gonzalez Escalada
Mission Leader
Juan has 12 years of experience as an Emergency Coordinator and 10 years as an instructor in the Emergencies, Catastrophes and Humanitarian Aid Master's Degree in the Field of CBRN Management.
"After many years of preaching in the dessert, all our experience and teachings have sadly come to fruition. The pandemic, has represented an enormous challenge to all society and to health care professionals in particular. We find comfort knowing that our alumni have been better prepared, and have been able to help others get ready, to provide the best possible care.".
He has participated in deployments for humanitarian interventions in emergencies in Asia, Europe and Africa, taking a leading role in the hospitalization of the Alcora Hotel as a COVID center for the elderly in March 2020.
"We have been overwhelmed by the institutional reception and the warm welcome by all Salvadorians. Even more so, the team at Hospital del Salvador have been extremely generous allowing us to review all their protocols and processes, and granting us access to every corner. We hope our mission has made a positive impact in their professionals that helps them overcome the situation better and faster."
SAMU First Response. SAMU Foundation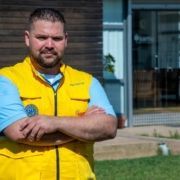 Andres Rodrigues Holst
Team Leader
Andrés has 15 years of experience as an ER and ICU nurse and 7 years as an instructor in the Emergencies, Catastrophes and Humanitarian Aid Master's Degree.
"During the pandemic, all of us healthcare workers had experienced a side of our professions that has changed the way we think and act on our day-to-day work. My scope of nursing being in humanitarian relief, with El Salvador I got to experience another facet of the deployments I am used to".
He has participated in deployments for humanitarian interventions in emergencies, conflicts, the COVID Pandemic and with forced displacement victims in the Americas, Africa, Europe, and Eastern Mediterranean regions over the past 12 years.
"This project brought challenges since its conception and compared to other interventions in my field. Aside from requiring a special care team during the COVID situation, it demanded that we changed the way we approach and structure our planning and logistics, how we managed and integrated the local staff and our team, the whole line of work had to be rethinked. I am very fond of this project since it was a first of its type for me and the overwhelming support that we received form the central government was unparalleled, which makes it a unique experience."
SAMU First Response. SAMU Foundation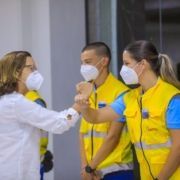 Lucía Sánchez Cruces
Nurse and Master UECAH SAMU
Lucia has 14 years of experience as an ER Nurse and 7 years as an instructor in the Masters of ER, catastrophes and humanitarian aid.
"Good attitude and the willinges to serve in our jobs is what compensates when there is a shortage of resources"
This is her first experience as an international volunteer. Although she has extensive experience and considered that her expectations were close to the realities, this mission has made her rethink the objectives to adjust to the local needs.
"I think of this mission as a beautiful project in which we are not only sharing our knowledge but also helping to improve organizational structures and procedures. This is a demanding challenge in which our efforts must be multiplied to improve local conditions"
SAMU First Response. SAMU Foundation